Heritage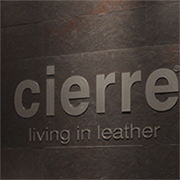 For 40 years, Cierre is the synonym of luxury leather sofa from Italy by the Conficconi's. The refined craftsmanship and elegance of its products has established its reputation, meeting the needs of the world's connoisseurs searching for unique and exceptional living experience.
Promises
top Italian leather of 200 choices
hand-made to order
fine customisation
world class mechanics
up to 5 years of warranty
Philosophy
"Living in leather" is the heart of everything the company does.
The company has been developed not only furniture, but also leather. Its aim is to take this classical material to transform it not an exciting new, contemporary design. This can be made possible only by running the family's own factory.